In November of 2018, StarGirl received its official online release after a year on the festival circuit.
.
A short film shot in 2015 by writer/director James Price of Pixie Films, it's a stark, SciFi western, set against the forbidding isolation of the Herefordshire countryside and centres on a disillusioned sheep farmer, Stan, played by me, who meets a female alien. It is by turns poignant and poetic, comic and absurd, sinister and thrilling; a very compelling 20 minutes.
At the start of 2018 I was delighted to re-join Northern Broadsides, playing Gradgrind in Deborah McAndrew's slick and dynamic adaptation of Dickens' Hard Times. The author's commentary in the novel was pared down to a minimum, leaving the narrative fully exposed, with all if its intrigue, heartbreak and comedy. I was on the road with an exceptional team of performers, under the musical direction of Bex Hughes and all moulded into vibrant coherence by Conrad Nelson.
In  2017, after an absence of more than two years from theatre, I found myself in Conrad's production of Anna of the Five Towns, an adaptation by Deborah McAndrew of the 1902 novel by Arnold Bennett, which ran at the New Vic in Newcastle-under-Lyme from 26th May to 17th June. It's a coming-of-age story, set in the heart of the Staffordshire Potteries, against the backdrop of the struggle for profit on the one hand and the pressures to conform to the rigours of Methodist teaching on the other. I played three roles – an impoverished potter, a hellfire Methodist preacher and a wealthy patrician – and firmed up my lip to play cornet and euphonium.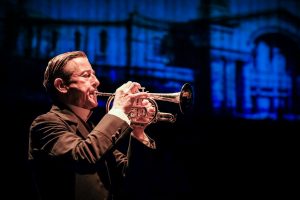 It was a challenging and thrilling welcome back to the medium where my career started.
Close to the Enemy, a seven-part thriller written and directed by Stephen Poliakoff, received its broadcast premiere at the end of 2016. It is essentially a thriller, set against the backdrop of covert operations in post-war London. The cast includes Jim Sturgess, Freddie Highmore, Charlotte Riley, Phoebe Fox, August Diehl, Robert Glenister, Alfie Allen, Charity Wakefield, Angela Bassett, Lindsay Duncan, Alfred Molina… and me, in the role of a sour-faced Maître D'. Have a look at my 2019 showreel in the Media section to get a glimpse. The series is available on a 3-DVD set via Amazon.co.uk and, of course, from other reputable retailers.